EMA is the initials of Erika M. Anderson, former frontwoman of the California noise-folk band Gowns. That band, led by Anderson and ex-boyfriend Ezra Buchla, released only one album, 2007's harrowing Red State, but their intense live show provided enough legacy for any group. According to Anderson, the group "self-destructed" last year.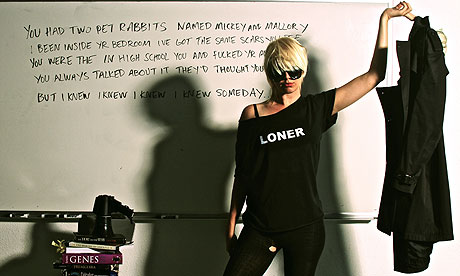 And now the singer and songwriter is readying her first solo album, Past Life Martyred Saints, for release on May 10 in the U.S. and June 4 elsewhere via Souterrain Transmissions. "The Grey Ship", which is available to download at the bottom.
Her harrowing, emotionally raw sound will stop your heart. After splitting from noise-folk band Gowns last year, she's been recording her solo debut,
Past Life Martyred Saints
, which drops May 10.
[FACEBOOK]
[OFFICIAL SITE]
EMA - The Grey Ship