If you thought releases this year have reached a peak (as far as quality goes) then you are in for another superb record! Wolf Gang (Max) unleashes his
début
album upon the masses, and here is a track-by-track review of it!
Lions In Cages:
Enjoyable from start to blissful-piano finish this is a track that
isn
't easily forgotten. Whilst yes it does sound scarily like
Iglu
&
Hartly
's 'In This City', in fact the opening line in 'Lions' is "In the city" (a mere coincidence?) it's a far more serious and engaging affair. The track has Indie meets Pop all over it, it's fast paced catchy lyrics and wonderful vocals.
Out of 10: 9/10
Something Unusual:
Now this track I have had two demos of, and what you can see if progression and building the sound upon the previous version. With the chunky guitar riffs to the high pitched keys, this is one of those "I want to play something cool for night time driving" tracks, I have been bopping along to this track in the car and the middle of the song is wonderful as it picks up more layers and makes you really pleased you gave Wolf Gang a listen. Not something unusual, a brilliant track!
Out of 10: 9/10
Stay & Defend:
With a flashback to the 80's here, you may be thrown off the album, but wait... the chorus comes in and brings it all to life (again)! The vocals and drums are the two main instruments here and it is clear Max wants his band to have a good time, and I bet the drummer loves this track as it gives him lots of interesting patterns to play. The second chorus comes and it gets bigger! This track is a new favourite for me!
Out of 10: 8/10
Suego
Faults:
The title track of the album, so here is a lot of pressure put upon it. A piano welcomes you to the track and tumbling drums. Max and his vocals are at the best here, a simple track to the ears but a wonderful one none the less.
Out of 10: 7/10
The King And All Of His Men:
One of the most well known tracks amongst the album, I'
ve
been listening to a lot of happy music this month. That's a trend I don't want to end just yet, and it's a trend that Wolf Gang perpetuates with excellent 'The King And All Of His Men'. Pounding piano chords, swirling
synths
, and epic "oohs." The sound is unique, catchy, and just BIG.
Out of 10: 9/10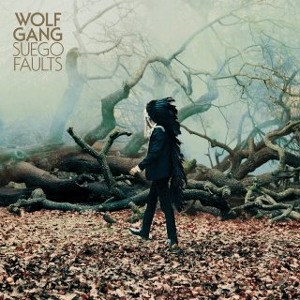 Back To Back:
Think the glitzy pop of The Killers without the self-seriousness, or
MGMT
minus the heavy beats. This track changes pace with a moody depth and a seductive bass lines, there is an itch from this song and it is when the chorus comes into life, you just can't help reminisce in it. Utterly brilliant to listen to!
Out of 10: 8/10
Midnight Dancers:
Is gentle, Organ and Piano keys lull you into a world of lovable melodies. This track screams top 10, only if enough people knew it existed, then it would be easily! But I'll just stick to be one of the few that know about this track.
Out of 10: 8/10
Dancing With The Devil:
Dancing with the Devil is Wolf Gang's most recent single, and thus one that's been getting some decent coverage lately. It's very possible you may have heard it. There is absolutely no loss in quality from the first track to this one. It's just as catchy, it's just as fun, and it manages to create a fantastic blend of some quite rock-orientated guitar sounds!
Out of 10: 8/10
Where Are You Now:
A tickling of a guitar and weird chimes start the track off with some quick paced marching-
esque
drumming. This track builds upon itself very quickly and as you delve into it further you are given a wonderful chorus, the instruments is what makes this one for me, the guitar just has great hooks and brilliant bass notes too. The latter third of the track is everything
Wolf
Gang is about! Just epic, and yes I can use that word in a factual comment!
Out of 10: 9/10
Planets:
This is the most darkest of the ten tracks on the album, but then spacey sounds come into the track and if you are on drugs your head will explode,
synth
keys, odd noises from afar and hypnotising vocals and guitar riffs. A good way to end the album, on a high (literally!)
Out of 10: 8/10
Wolf Gang -
Suego
Faults
Out of 10: 8.3/10
A wonderful
début
, it would be a shame if you didn't buy this! A real contender for album of the year! And I mean it!
Wolf Gang - Dancing With The Devil by

wolfgang
[

FACEBOOK

]
[OFFICIAL SITE]