The fifth release in the series of techno twelves on Simian Mobile Disco's new imprint Delicacies. Jas Shaw and James Ford have been accompanying these 12"s by curating their Delicatessen parties around the UK.
Gizzard:
Amalgamating hard edged analogue beat structures as well as some of the more mellow, melodic aspects of techno. This track is bouncy and enjoyable, easily played in a techno nightclub, this is one for the dark nights at home for sure. A track from an exciting act in electronic music. Towards the end of the track is where all of its energy is, I am loving this on full blast, shame its only 7am!!!
Out of 10: 7/10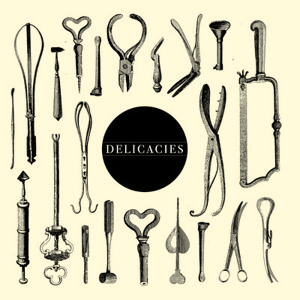 Gizzard (Psycatron Remix):
If you though the original track was good you would be amazed to hear the remix on the flip side. A trippy remix awaits you as your speakers are treated to brilliant bass beats, a synthy orchestra . This is as long as the normal track but definitely worth the 8 minutes!
Out of 10: 8/10
Simian Mobile Disco - Gizzard 12"
Out of 10: 7.5/10
[FACEBOOK]
[OFFICIAL SITE]