We caught up with indie five-piece Amber Run before their headline show at the Thekla in Bristol. Following the release of their incredible début album '5am' this year, the band talk to us about festival season, touring, songwriting and new material. Check out the interview below:
This is your first tour since festival season, how was it? Did you have a favourite festival that you played at?
Will: It was really good, we had some good ones, we had some not very good ones, we had a lot of time doing nothing aswell, but there were some shows that were absolutely wicked. Barn on the Farm, Somersault festival, those were wicked. It was nice but would have been nicer if we were always always doing something. The problem with festivals is that they are just on the weekend, so during the week you are just sitting around.
Festival you aspire to play at in the future?
Henry: Coachella or Benicassim.
Tom: Obviously we want to play Glastonbury, wanna go back to Reading and Leeds, as we played the BBC Introducing stage there, but it would be nice to go back and absolutely smash it. We wanna go abroad too and do Lollapalooza, Coachella, Rock In Rio. Rock In Rio would be pretty sick.
You have an extensive fan base around Europe, do you think you'll be playing any shows over there any time soon?
Felix: We definitely will next year.
Will: It's pretty much definitely on the top of our priority list. We were planning on doing it for this album cycle but it just didn't really come together. So it's literally the main thing we want to do next album is go and tour it in Europe.
Joe: It's literally top of our list, it's round the corner. It's just really expensive, being in a band now is just really expensive.
So you've played the Thekla in Bristol twice?
Tom: It was here, you're looking at the stage right here. That was the stage we played right there (points to the Upper Deck stage). That was the PA we used, we could only basically fit a drum kit on it and that was about it. It was one of the worst shows we ever played.
Felix: The thing that you would all think is 'oh this is such a small room it must've been rammed'.
Tom: You would be wrong, so wrong! The crowd was made up heavily of Henry's family.
Henry: My nan came down which was nice.
Tom: The other time we played the Thekla was the downstairs room which we are playing tonight. Which is wicked. But, it was Dot to Dot last year and there was a massive massive amount of traffic coming into Bristol and we were playing at about 3.30pm, we were the first band to arrive for our stage. Every other band before us had to cancel. We arrived 5 minutes before we were supposed to start making noise so we literally pulled up outside the venue, ran downstairs with our instruments, plugged in and started playing. It was one of the most stressful experiences we've had in terms of a live performance.
Joe: It felt rock'n'roll though you know? Turned up, plugged in, played. But it wasn't the best show we thought we could give to Bristonians, so we are excited to come back.
Will: It was still a good show though.
Tom: We've played in Bristol a few times at different venues and they've been wicked shows which is why we've come back on this tour. We're only doing a few dates and we had to come back to Bristol because we have a massive fan base here. So we are going to smash it tonight.
Joe: We enjoy playing here.
How's the tour been so far?
Tom: It's quite a short tour, only a couple of dates and we are half way through.
Henry: It's nice, but as you are slowly getting into your stride, it will be over.
Will: We travelled back from Manchester yesterday and had the night off and I was sort of sitting at home like, 'This is kind of annoying because I would have happily played two more shows in a row, then had a day off.' We did choose to do only this many shows though so...
Joe: We, as a band, playing shows is our favourite thing to do and so we would be on tour every single day of the year if we could be doing that.
Felix: I think as-well, it's great that these have all sold out because it's kind of a dream to be selling out shows. Our biggest headline show is tomorrow, so that's genuinely like a dream as it's sold out. If we put more shows on and they told us that, that would've been amazing too.
So you have your big show at KOKO tomorrow, have you seen any other acts play there?
Tom: It's basically always been on my list of venues that I have wanted to play before I died. I've basically seen some of my favourite bands there. I went to see my favourite band Cage the Elephant there with my mum when I was like 15 and it was the first time I had ever seen them. It means a lot to me as a venue. I try and not let it dawn on me that much, the fact that we are playing at a venue where I used to see all my favourite bands. We're actually headlining it and it's sold out which is insane. I try not to let that go to my head.
Will: We also look at bands who we used to love who have played there and then we're like, 'Oh, are we as big as those bands now?' We're kind of like, 'Ermm I don't think so?'
Joe: It's a wonderful thought that the bands that we've gone and seen there, you know, there could be a kid out there who likes us as much as we liked those bands. It's a humbling and also really nice thought. It's the kind of stuff that keeps you going to be honest.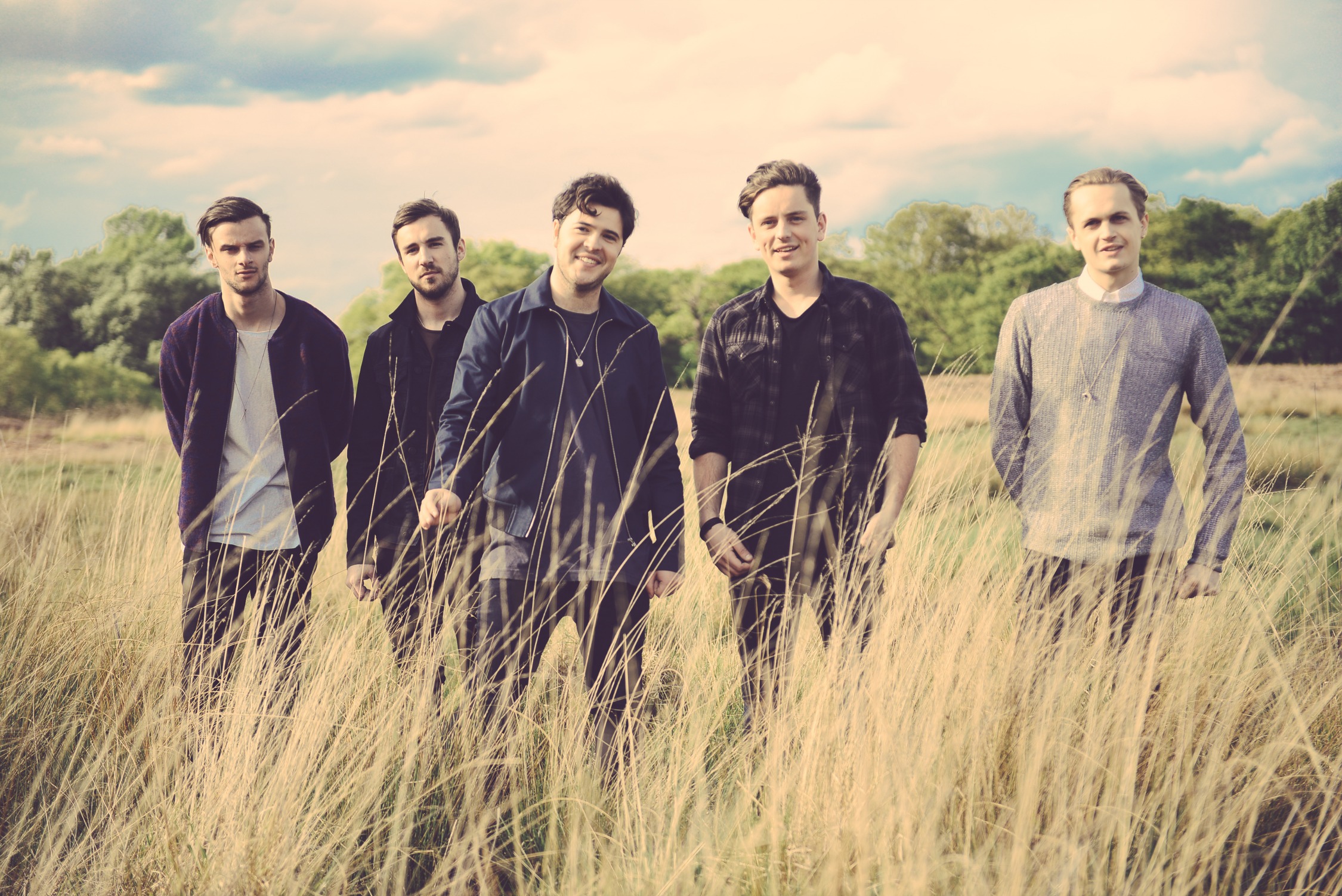 Let's talk about your début album '5am' which was released this year in April. What was the songwriting process like for the album? Or did it differ from track to track?
Will: It's funny because it should be interesting when people hear our second album because the first one was written over the course of about 4 years maybe, and so there are songs that were written when we were 17/18, and songs that were written just before it came out. Whereas the second album is obviously going to be like a more concentrated period so it should be like slightly different. The writing process would tend to be that Joe would come in with songs and then we would try it out as a band and see how it would work. Some songs were more collaborative, when we would all come in with different things, so like '5am' and 'I Found' we would find something completely new. For example, musical programmed drums on '5am', the whole sort of four-part harmonies with no guitars or anything on 'I Found'. Some of the earlier songs we wrote conventionally, like jamming in a room. There's a bit of a range.
Is the input then an equal band input?
Will: Not really, I mean, Joe wrote the majority of that first album, but I think what we are seeing with the second album is that we are all a lot more comfortable at bringing ideas to the table. We want to get it out as soon as possible and we've all got ideas, so our aim in our heads now is 'let's get as much written as we can'. Everyone's more comfortable to speak their minds and express themselves so it should be interesting.
Joe: It's a really interesting new way of doing things. It's new for us, but that's how the best music gets written aswell. Just trying new things, different people trying new things aswell. That's how you keep things exciting for people in the band, let alone the people who come and hear the music.
Felix: Everyone has been bringing in ideas of what we want to write. Someone might bring in an idea that is completely different to anything that we would even try and write and then you've got to try and take that and guide it towards the Amber Run thing that we would do normally, whilst trying to make it slightly different. So it's really fun, coming in with new ideas and not really caring about which genre it starts off in and what kind of vibe it is because it will change. 'I Found' started of as a piano ballad, and it turned into something different, so there's always a possibility that you can make something out of anything.
Will: It should be interesting for the people who hear it, but it's always interesting for us as a process. We've done a few songs that we would hope that people would hear and not really realise it was us, but it's quite funny because we never thought anything as everything is quite natural in the way we do things and we just let the song become what it is. You then get to the end product and say, 'actually this doesn't sound anything like the first album but we love it'. The best bands are the ones that come up with something new, innovative and something that's different because who really wants to listen to the same thing over and over again?
Henry: In the eternal words of Walt Disney, 'If you can dream it, you can do it.'
Felix: If you're in a real niche where you're kind of the figurehead of the genre you can kind of get away with doing something similar. It's so one lane and you like it for what it is, if they keep releasing that, then great. Whereas, in our genre of music it is very competitive and I think you have to do something different.
Will: You have to just grow and you know, just change, change your skin.
How was it working with producer Mike Crossey on your album?
Felix: He's a genius. These songs wouldn't be these songs without him. Also, massive credit to the guy who we refer to as the 'sixth member of the band' Sam Winfield. We do all our demos with him and write with him a lot. He's just amazing, he's a genius and had a huge influence on all these songs.
Will: Working with Mike aswell was great because we meet bands and they talk about how they write and record with different people and get produced by loads of different people, until they find the one that works. For us, Mike came up to us and said 'I'm interested' and we were like 'Great, we're interested' and we just started working with him and fell in love. It was just the most natural thing in the world and was just great for us as we could just do what we wanted to do and he was able to guide us with it. It was good for us aswell to see someone who has so many cool albums under their belt. 'The 1975' one had just come out when we started working with him, for us, we were like, 'this guy is a serious deal that album has gone to number one and he wants to work with us.' It was a massive confidence boost aswell.
Let's talk about your album as a whole, you have two interludes within the track-listing. Are they part of the overall storytelling?
Joe: I would say so, but we as music listeners really enjoy that kind of music. You don't have to be hit in the face by singles the whole time. It feels like something that is just so important people now, 'That Radio single that we're going to sing back to you at festivals'. We want that aswell obviously, but the songs that are really important to you, the ones that really make a difference, are often the ones that don't hit you in the face. Rather you sit back and just listen to it in the dark and it makes a genuine difference. One of the things about music aswell is that it doesn't always have to have words and sometimes words just dilute what the actual music could say.
Will: Those interludes are sort of strategically placed where there's one right at the start and one in the middle. It's good just to have a minute and a half to take a breather and take a step back.
Joe: A pallet cleanser. Kind of getting you ready for the next track.
Felix: You know when you're talking about a band with someone and that person says 'I love that' and that's the main single and you go like, 'no no no no, but you've got to listen to this and this,' I guess it's like that and a little thing for the people that are actually listening to the album. It's not kind of a really bright straight up pop song, something that has a bit more depth to it.
Joe: The absolute dream is that someone would come and go, 'Oh my god, CF is just beautiful, it's just amazing.'
Will: Enter Shikari's first album had interludes on it, and there were one or two interludes where I was like, 'That's so good,' and I would listen to it like a track in itself. I just really enjoyed that piece of music as a thing in itself.
Joe: Something about this band which is true of others but not true of all is that we're musicians just as much as we are anything else. We like picking up our instruments and playing, just as much as we like anything else about the process. I think it's really nice to be able to do stuff like that because we love it and if people like the music we're making I assume they would like it too.
Henry: In the words of Walt Disney, 'Never underestimate an instrumental track.'
As you've been explaining about the new material, will we be hearing any new tracks tonight? A track called 'Wastelands' maybe?
Felix: No comment.
Tom: No comment.
Will: Working title, no comment.
Joe: Working title.
Will: Final title, absolutely. It just goes to show you never can tell. As Walt Disney said, 'You gotta get up, you gotta keep running wild.'
Will this be your last tour for a while then?
Will: Ever!
Joe: I don't know about a while. We want to release music and we want to keep going. We don't want to be a band that just releases an album every two to three years and then you don't hear about them, then they tour the festival circuit, do one tour and then disappear again. We want to be releasing music, we want to be touring. We're setting ourselves a challenge of saying that this is our last tour and then go away, finish another wicked album so we can get back out and tour as soon as possible. We love it and we also love writing.
Will: We're also kind of getting bored of these songs so we want to write some new ones.
Felix: It's funny you say that because I listen to 'Noah' everyday. It's my alarm and my go to bed alarm. To wake up in the morning it's 'Good Morning'.
Will: You have a different track alarm for every hour of the day and then you're like, 'I missed that one!'
Seriously, we do want to be one of those bands like Bombay Bicycle club who have an album out almost every year. It's a challenge but it's also an effective way of staying relevant. We just want to go, 'that one's done, here's our new album, it's only been a year since we released the last one.' We just want to keep releasing music.
Felix: If people think that's too much music for a year then they can go away!
Joe: If we're being totally honest, we're well aware that some of the things we needed with this album to be able to push on and get where we want to be didn't happen. However, whilst we've got fire in our belly over that kind of stuff why don't we write and record and do some really cool stuff, rather than just being bitter and not doing anything for ages.
Felix: I'm not bitter, I listen to 'Noah everyday!