London-based four piece INHEAVEN have had a fast-paced couple of years so far, from being snapped up by Julian Casablancas and releasing their first single 'Regeneration' on his Cult Records label, to signing with a Major and packing out festival tents this summer there is no stopping this incredible band. Armed with a DIY ethic that certainly makes them stand out from the crowd, INHEAVEN are definitely on the road to success. We caught up with the band in Bath, before playing an energetic headline show at legendary venue Moles. Lead singer James, bassist Chloe, guitarist Jake and drummer Joe all give us the low down on what INHEAVEN are all about. We chat about touring, festivals and future plans. Check out the interview below!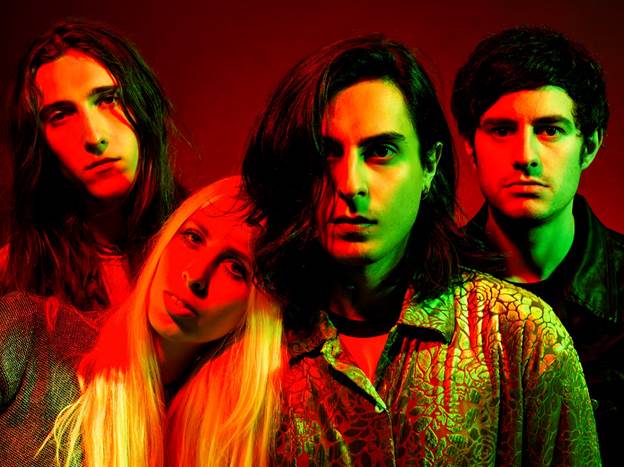 So firstly, how are you guys doing?
Chloe: Good! It's the second day of the tour, yesterday was great so we're looking forward to tonight.
Jake: Yeah, we love Bath.
Can you tell our readers how INHEAVEN formed and became the band that it is now?
Chloe: James and I were both in different bands and we were playing at this place called The Lexington in London. We were mutual friends for a long time. Eventually, we kind of realised we were both listening to the same kind of music and we tried something together and it just went really well. Jake was living in South-East London where we were and then Joe came along later. It was all pretty organic really.
Did the name take a while to come up with?
Chloe: We originally had a different name to start with, but then we changed it. We were actually called 'Blossom', but Blossoms hadn't come out yet and now we're supporting them on tour!
Joe: Yeah, it's kind of funny that now we're supporting them.
Chloe: But yes, we definitely thought INHEAVEN sounded better for our band.
So you've just finished festival season, how did that go?
Joe: It was really good! Reading and Leeds were really good, YNOT festival was good too. Truck festival was great, to be honest most of them were really good! It was a really good festival season for us.
Chloe: Yeah, lots of really good UK festivals!
You played abroad at Bilbao BBK Live as well, what was that like?
Chloe: That was great!
Joe: It was pretty surreal really as we were playing the main stage as well, it was massive! We were playing the same stage as Pixies which was quite crazy. There were also banners and stuff for us!
Jake: Yeah, there was a girl with a banner saying 'You make me feel like I'm In Heaven.'
Any places you specifically want to visit in Europe as a band?
Chloe: Everywhere!
Joe: As many places as possible!
Did you catch any acts whilst at the festivals this summer?
Chloe: We've seen lots of bands over the summer.
Jake: At Glastonbury we saw Wolf Alice, Sundara Karma as well.
Chloe: We also saw Black Honey at YNOT Festival who were very good!
You're currently on your UK tour, how was your first night in Birmingham?
James: Yeah, it was amazing! It was a real big moment for us. It was crazy. The crowd were jumping around, I crowd surfed!
Chloe: They carried James across the room.
James: There was this guy that was pushed over the barrier and then he was like 'Alright guys?' and then he went back over and into the mosh!
For you personally as a band, what's the best thing about playing live on your own tour?
Chloe: I think nights like last night, with the reaction you get. Load of people have come to see you. It was a really nice feeling last night, knowing that all those people had come to see us.
Are you showcasing new material at these shows?
James: Yeah, we have one new song!
So you're supporting Sundara Karma at their headline show at Heaven - INHEAVEN at Heaven - how are you feeling about that?
James: It will definitely be a special show.
Chloe: We're really looking forward to it.
James: It's definitely one of the biggest London shows we've done as a support band.
Chloe: Yeah, it's 1000 capacity.
James: Will definitely be our biggest London gig to date I think.
Are you looking forward to visiting any cities in particular on tour?
James: We love Newcastle, Birmingham is always amazing.
Chloe: Yeah, I think we were really looking forward to Birmingham yesterday. There are also loads of places where we haven't been before as well. We've never been to Bath before, we've never been to Norwich, never been to Plymouth. I'm hoping people will know the songs there!
James: Yeah, we've never played some of these places before, so we have nothing to gauge off really.
Chloe: We've played in some quite a few times so we know what to expect.
Initially, how did you develop your sound as a band?
James: It was kind of straight off the back really, it was kind of the first time we did something and it came about so easily. We'd all been in bands before and it was always hard to find 'your sound' and find what you want to do. Our first song was 'Regeneration' and that kind of painted the picture for the rest of what we've done up until this point.
Chloe: That was the blueprint really.
James: It came together really easily. I guess when it's right, it's easy isn't it?
Are there any specific bands who have influenced you in creating your sound?
James: Lots of different bands.
Joe: Yeah, lots of different influences I think, lots of stuff in there.
Chloe: Well we like Smashing Pumpkins, Pixies, David Lynch, lots of different things, and movies influence me, and that's influenced some of the songs.
James: Perhaps the free-spirited nature of the late 60's, rock and roll influences too.
Julian Casablancas snapped you up near the beginning, would you say that's been a defining moment for you as a band?
James: That came out of the blue. We were basically putting up demos every week on this website and we put up weird videos with the songs. We started getting a lot of press and blog stuff from it unexpectedly. We then ended up having our managers contacting us saying, 'Hey we love these demos, we want to manage you.' We then got our big fancy managers and they told us to take it all down and do it all over again. So we took it all down and it was a few weeks later that Rory Atwell, who mixed our demos, emailed me and said 'Dude check this out' and I scrolled down and Cult Records said, 'Me and Julian have heard these demos, who are they, where are they, we want to do something with them.' Obviously, they weren't able to find anything because we took the whole website down.
Chloe: We also had a different name then.
James: They were like 'Where did all the songs go? We want to put one out.' In the end, they ended up putting out Regeneration. It's definitely created one of the best days of my life I think, getting that e-mail!
Chloe: Yeah, it's pretty cool!
So you're now signed to Epic Records for your album, would you say there are differences working with a Major record label compared to working with an Indie beforehand?
James: We're not really like most other bands that get signed up as we've always done our own artwork and our own videos and produce our own songs. They haven't really had much of an influence on the output, all they provide for us is a structure for us to put out what we create.
Chloe: They're a pretty small team and have been really supportive and just let us do what we want which is really great. We give them the songs, we give them the artwork, the videos, and then they say 'Cool' and help us put it all out. I think if you don't know what your vision is and can slightly sway one way or the other, I think that's when you don't want too many people telling you what your art should be like. It should definitely come from you.
James: We could probably be on any sort of label I think and it wouldn't affect our output or image if you know what I mean.
What's been the highlight of 2016 for you so far as a band?
James: Reading! Definitely! It was like the best day of our lives.
Chloe: I think because we knew we were doing it from the beginning of the year, and it was the first festival that all of us had ever been to and it was quite a big one as well. I've never seen so many kids watch us, all singing along!
Joe: We had no idea before we went on how many people were there as we were out the back. We walked on and it was a packed out tent. Which was exactly what you want. Everything came together, it was perfect.
Jake: Loads of moshing and people jumping up and down.
James: There's always that feeling that the tent won't be filled up. Every band gets it as obviously in-between bands, tents clear out and people go and watch other bands and then they fill up again. There's always that fear, and you're sound-checking and thinking is it going to be like this? Every time this summer we've gone on and there have been loads of people. Reading was bigger than we ever imagined, it had more pits than we ever thought was possible! It was probably one of the best feelings ever.
Chloe: It felt like a first time that I felt like, 'I'm actually doing this properly, we're not pretending, it's actually real.'
You've recently released your latest single 'Drift', what's the inspiration behind that track in particular?
James: Musically I was probably listening to a lot of Sonic Youth and then Chloe came up with a great chorus line. It was just like a real free-loving summer tune. There is also an undercurrent of like..
Chloe: Summer sadness.
Joe: The video is really great too.
Chloe: Yeah, I shot the video on Super 8, so that was the first time we've done the whole thing on film. We've done all our videos so far, but this was the first one we hadn't done on digital, it was all done on film which was quite a challenge.
How long did the video take to film?
Chloe: Well the film is really expensive, so I had like 4 reels but it wasn't too hard.
James: Yeah, it's one of my favourite videos actually.
Joe: Yeah, it went really well, I really like it.
James: I love with Super 8 that you can't stretch it can you so it has to be a square?
Chloe: Well, you can stretch it but it defeats the object, it's like 8 by 10.
James: It's really cool, it really is.
There's a shot of a Girls Against badge in the video, I'm guessing you're big supporters of that campaign?
Chloe: Yeah absolutely! I've had that badge on my dress for ages and then whilst we were filming, I got James to do a close-up of the badge - I thought it would be a nice shout out to them
James: We met them as well didn't we? We've met them a few times.
Jake: Yes, they gave us the badges.
Chloe: Yes they're getting lots of exposure, I saw them on the screens at festivals this year, at Reading and Leeds. It's very impressive.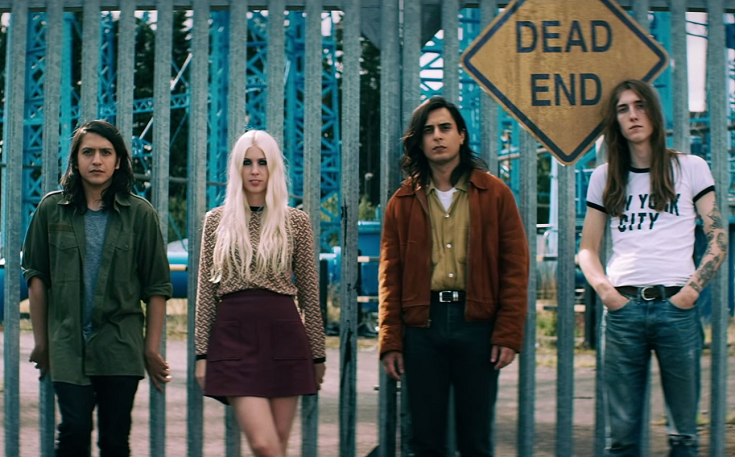 So you've done the films, the zines, the artwork - Will you continue to explore the DIY theme throughout your work?
Chloe: Yeah, I think it's just part of our aesthetic and how we do things. The artwork and everything.
James: We did it originally because we didn't have anyone to help us so we just did it ourselves and then we kind of carried on doing it and got better at it. So when there were options of having people do it, we were like 'We're just going to keep doing it'. I think if you do something yourself, you separate yourself from every other band out there. Whereas, if someone else designs it, you end up looking like every other band out there I think. Quite often bands will often look the same during a period of time, but if you do everything yourself, when you look back, you'll stand out amongst the bands of that time. To keep that timeless image thing going, I think we should always do it.
Chloe: Although it is quite hard work! I don't know if I will eventually have time to cut out all those photos!
Joe: It keeps your identity though, it helps to keep that.
So you've mentioned you do the artwork yourselves too?
James: Yeah, we do our artwork using scan techniques. I mean not techniques, I kind of just made them up! Quite often we will just send them to whoever is printing our singles, and they're like 'What is this? Where are the layers? Can you send me the Adobe Photoshop format?'
Chloe: They keep asking for weird stuff and we're like, 'It's in Microsoft Word so can you just make it a square?' Sometimes they bleed around the outside!
James: Things like bleed and stuff have got us in trouble a few times!
Chloe: Pretty much every time!
James: We always work our way around it though.
What can you tell us about your album?
James: The album will be out next year definitely. The visuals are so important that we're going to try and create a visual for every single song on the record. I guess you'll start seeing those pop up on the internet over the next six months.
Chloe: Will definitely be a busy few months! We've recorded the album though already.
James: We recorded it at Rockfield with Tom Dalgety. He's from Bath actually!
Ultimately, what can we expect from INHEAVEN in the near future?
James: We're doing the Blossoms tour. We're just going to be doing lots of gigs.
Chloe: We're doing this tour until the end of October and then we've got the Blossoms tour so definitely lots of gigs!
James: Also we'll be releasing a load of music and videos. Perhaps some rapping from someone too!
Chloe: That'll be me! I will have a rap solo somewhere - watch this space!
INHEAVEN are currently on their extensive UK tour until the end of October with support from Pale Waves. Make sure to catch them at a city near you!