Following on from our preview of GreenMan Festival – we are here to whet your appetite and share the top 10 acts to see over the weekend (in now just under two weeks).

Even if you're not attending, this is a surefire list to get your new music fix. Either discovering someone completely new or reaffirming your (probably already great) music taste.
The festival's music officially kicks off on Thursday evening, and with the lineup scheduled, there is no reason to not get down to the site early, pitch your tent and start the weekend right. Bess Atwell kicks off proceedings in the Walled Garden with her 'dynamic traditional folk music' - BBC Radio 6 music have championed her an incredible songwriter (for fans of Sharon von Etten, Fleet Foxes, and the National). Later, we see the Malian duo of Amadou & Miriam headline the Far Out tent, with both Bodega and These New Puritans leading up to this.
Over the weekend, and particularly the mainstage, there are a host of legendary acts which for all should be a must-see - including headliners Four Tet, Father John Misty, and Yo La Tengo. Other names which appear on the (at least my own) list include the enigmatic Julia Jacklin, the recently Mercury Prize-nominated IDLES, the heroic Eels, the perfectionists Khruangbin, and the soulful Lee Fields & The Expressions. The lineup is so diverse and impressive - I haven't even mentioned the three supreme nu-jazz outfits Ezra Collective, Sons of Kemet, and The Comet Is Coming; nor have I mentioned Avi Buffalo, Stereolab, Big Thief, Villagers, Aldous Hardin, Yak, The Growlers, Chelou, Marika Hackman, or Pigs... (x7). Or even Scalping (check these guys out. New on the block and making noise).
To make claim to the top 10 acts to catch at Green Man 2019, please see below. It is a selection of upcoming bands which are making big names on the live scene, as well as some more seasoned veterans. In order of chronological appearance...
New Zealand band who play gleaming guitar rock with a major melodic charge. Basically, four jazz students at the University of Auckland bonded over their childhood love for pop-punk. Nothing overly complicated, but an album full of anthems. If this is
the sound of a young band still figuring out who they are, then I can't wait to hear what they have to come next.
The Beths
2. Whitney
| Friday 17.30 Mountain Stage
The Chicago superband return with a second record that'll see their star rise even further.
The follow-up to 2016's blissful debut, the band tell us, will take a darker turn, but still leave plenty for fans of their debut to enjoy. It will be interesting to see how this translates to the new live show.
Whitney

3. Squid
| Friday 18.45 Walled Garden
Having recently seen the band destined for cult status, Squid are certainly one not to miss. The live show brings that extra element, which is arguably lacking on some of the recorded songs. Describing their sound as "Coronation Street theme tune played on flutes by angry children." You can see how it's a live show that gets you moving. With their song 'Houseplants' featuring regularly on BBC 6 Music Radio, check them before they blow up. Also because they're part of the post-punk revival (even though apparently they started off as a jazz outfit. Weird, I know).
I don't think I need to introduce this formidable live band.
They have gained notoriety for their live shows, class war politics and debauchery. Why have the Peckham band swapped it all for health spas and flute solos? Or have they? Sw
eat seems to drip off the current core of the Fat White Family. Every single one of them had "hard drug or drinking problem". But r
ecent live shows suggest that Britain's unhealthiest band really are getting their act together production.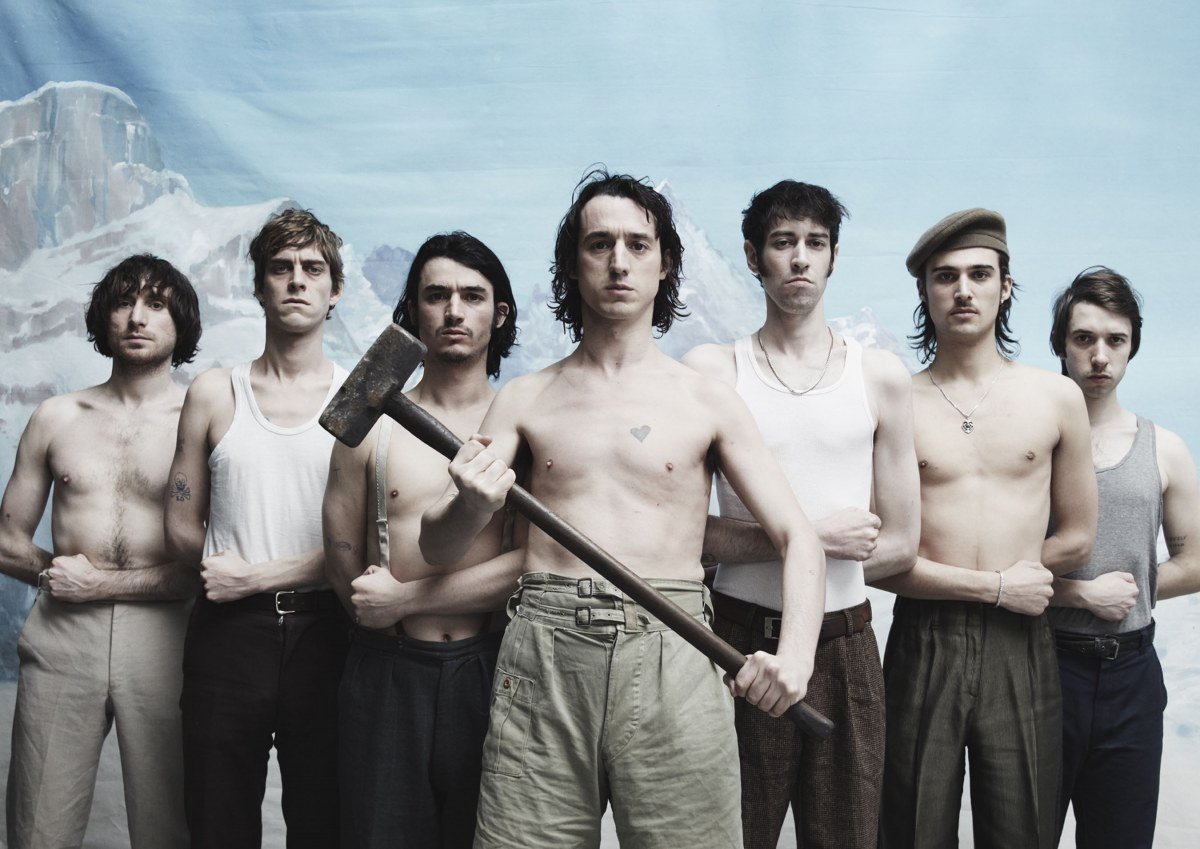 Fat White Family

The duo, who have been steadily building a glowing international reputation via a string of well-loved EPs and albums and handful of remixes since 2011, take to headline the Far Out stage late on Friday. Sure to be a great start to a long evening, the duo are set to deliver their 18 months of hard work. Intrigued by the dynamics of electronic music for the dancefloor as much as with the richness of human quality of live instrumentation and song-craft, they have worked tirelessly to evolve and forge a unique, compelling and deeply soulful marriage of the organic and synthetic. Perfectly showecased by critically-acclaimed new album 'Kingdoms in Colour'. Songs set to be huge include 'Turnmills', 'Glasshouses' and staple 'Midas'.
Stella Donnelly
The enigmatic London-based six-piece lay their flaws on the line in a jagged set of 6-minute plus masterpieces. The band say their debut singe 'Athen's, France' details "a spectacular return to bad form; a romantic encounter; and a chronic fear of intercourse".
Lead singer Isaac's unnerving vocal wavers like Mark E. Smith staggering through cynical references to Ariana Grande and a playful mimic of Phoebe Bridgers (the line "why do you sing with an English accent? / I guess it's too late to change it now" from her track 'Motion Sickness') alongside uneasy Gang of Four-esque jangling guitars. Throughout the band's live set - vivid phases, intensifying vocals, nose-diving into a strained growl of desperation. Having seen the band live at Visions festival in East London last weekend, this could be arguably one of the most intense sets to see all weekend - and found on the small Rising stage - the intimacy could be momentous.
Black Country, New Road
Another band who made headlines over the last 12 months. Not only for their incredible LP's and standout tune 'Drunk Drivers/Killer Whales', but for their unstoppable live performance. Having seen them perform three times already, they still appear on my radar everytime. Each time

, they struck me as giving their 'poppy guitar epics' the powerhouse presentation they deserved. It be interesting to catchup after 12 months, with many well-renowned bloggers and outfits indicating the band "has levelled out". Stereogum even stating that "The disconnect between the enjoyment of CSH's records and live shows are severe enough that we didn't bother trying to see last year's tour surrounding the re-recorded Twin Fantasy."
Nevertheless, the opportunity of hearing tunes such as 'Fill In The Blank', 'Bodys', 'Unforgiving Girl (She's An)' and 'Destroyed by Hippie Powers' is always enough to sway the indie/rock crowd.
Car Seat Headrest
Every year at Green Man, there is one set on the Sunday at the mainstage, where the music is melancholic, beautiful and empowering - just as the sun sets. This year that set falls perfectly to Sharon van Etten, and I couldn't think of any set better suited.
No one does longing quite like
her.
The prospect of Van Etten hurtling through her singles 'You Shadow' and 'Seventenn' with unrivaled raw emotion, wailing ferociously, is enough to give even the toughest shivers. Her recent Glastonbury appearance gives highlights of what to look forward to - coming across clearly as an artist in her prime, from her effortless stage presence down to her powerful vocals.
Van Etten spent years in a relationship with a partner whose dysfunctions extended to smashing up her new guitar when he found out she was secretly playing gigs. It is lazy to assume that all female artists write autobiographically, but in this case, there are clear and cherishable links between Van Etten's lived experience and her songwriting.
If anything, then, Van Etten's live performances are now even more full-on than before.
10.

Nil

ü

fer Yanya | Sunday 22.45 Walled Garden


And last but not least, Nil

ü

fer Yanya. While Sunday is much calmer line-up this year and not as strong as previous days (in my opinion) - there is a huge finish for Green Man 2019. Some might say too good. The finish sees Father John Misty headline the mainstage, while IDLES headline the Far Out tent, and the upcoming star

Nil

ü

fer Yanya

rightly takes to headline the Walled Garden.

The daughter of two visual artists, Yanya grew up in and is of Barbadian and Turkish decent. Gravitating away from the classical and Turkish influences of her parents, she took to the guitar aged 12 and never looked back (even turning down the chance to work with in a girldband initiated by OneDirection). Her critically acclaimed debut 'Miss Universe' is an understated record of the year. An example of typical Y

anya includes her writing gorgeously about the seduction of sensation, no matter its side effects: "Deep underwater I breathe/Let me soak/Chasing the shades of the love that we made, of the love that we broke," she sings on 'Baby Blu' - a cloudy meditation that builds into subtly euphoric gospel house. Her songwriting is a textural palace of wonders. And I, for one, hope her live show lives up to the almost-perfect album.




Listen to 'Keep on Calling', 'Heavyweight Champion of the Year', 'Heat Rises' and 'Safety Net'.



Nilufer Yanya
The festival takes place from August 15
–
18 2019.
Follow us or @richmaver on Instagram to get the latest live from the festival.